First, we agree on the design and border you want for your home or business. We want you to be completely satisfied with the final product, so careful planning is important to us.
Then we prep the ground by using a sod cutter to cut the grass and it is removed with shovels to help level the surface.
Once that's done we're ready for the installation.
The concrete is mixed in our curbing trailer and has a fiber mesh for added strength , it is then transported by wheelbarrow to the site.
The concrete is extruded at this time in the area prepared. (As shown below)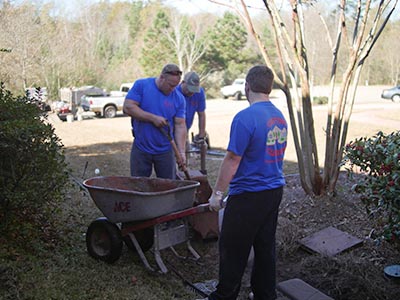 The concrete is then troweled and finished. If you choose a stamp design, then that's done at this time.
A control joint (expansion joint) is then placed approximately every three feet to minimize cracks.
The concrete edging is then sealed at the end of the day to protect the finish on colored and stamped concrete.
This is normally a one day process.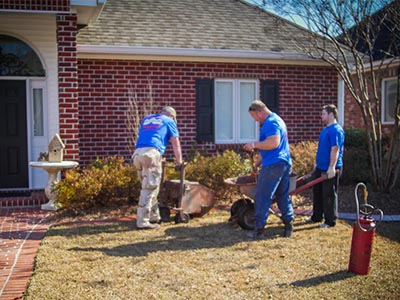 Pricing
All projects start at $850. Our pricing isn't solely by the linear foot. Some of the things that affect pricing are, style/color or curb, amount of ground prep, drainage work, root work, travel distance, number of areas, etc.
Most of our jobs are in the area of $1,400-$1,850 range, which includes 1-2 areas and 60-120 linear ft.